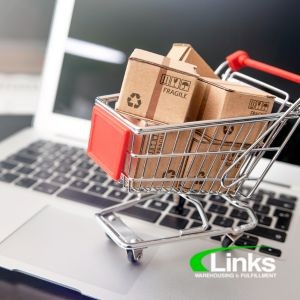 Posted on September 26, 2023
Online businesses are constantly seeking efficient and reliable solutions to meet customer demands and stay competitive.To expand into markets across the border, many organizations explore Canadian 3PL services. Setting up shop in Canada can be challenging without the right foundation in place. By partnering with a Canadian e-commerce warehouse, businesses expanding and scaling their offering can do so with greater ease, efficiency, and confidence. With reliable and experienced professionals at LinksCorp paired with proximity to the Canadian market, Canadian 3PL and warehousing helps reduce shipping costs, boost delivery times, and simplifies cross-border shipping are just a few of the advantages that these facilities offer.
To learn more about the benefits of leveraging Canadian e-commerce warehousing, read on.
Expand to Canadian Markets
One of the most compelling reasons to consider a Canadian e-commerce warehouse is its strategic location. By operating within Canada, your business gains direct access to the Canadian market, allowing you to serve local customers quickly and efficiently. By having facilities directly in the country or region you're serving with LinksCorp, you can reduce shipping costs, minimize delivery times, and enhance customer satisfaction.
Reduced Shipping Costs
Shipping costs can significantly impact your e-commerce operations. Utilizing a Canadian e-commerce warehouse can help lower these costs by storing your products closer to your Canadian customers. This reduces the distance and shipping fees associated with delivering goods, ultimately saving your business money and improving your bottom line.
Faster Delivery Times
With more competition online, competing with ecommerce requires fast and reliable shipping. Canadian e-commerce warehouses enable you to offer shorter delivery times to your Canadian customers. This not only enhances their shopping experience but can also be a competitive advantage in the market.
Simplified Cross-Border Shipping
If your business operates outside Canada and intends to serve Canadian customers, navigating cross-border shipping can be complex and costly. Leveraging a Canadian e-commerce warehouse simplifies this process by streamlining customs procedures, reducing border delays, and ensuring your products comply with Canadian regulations.
Scalability and Flexibility
Canadian e-commerce warehouses are equipped to handle businesses of all sizes. Whether you're a small start-up or a large enterprise, these Canadian 3PL facilities offer scalable solutions to accommodate your specific needs. This scalability ensures that your warehousing and fulfillment operations can adapt to changes in demand without unnecessary complications, so you can grow your bottom line with greater ease.
Improved Inventory Management
Efficient inventory management is essential in e-commerce. Canadian e-commerce warehouses employ advanced inventory tracking and management systems to help you keep tabs on your stock levels. This enables you to maintain optimal inventory levels, reduce the risk of overstocking or understocking, and improve overall operational efficiency.
Access to a Skilled Warehouse Teams
Partnering with a Canadian e-commerce warehouse grants you access to a skilled and experienced workforce. These professionals are well-versed in e-commerce logistics and can handle various tasks, from order picking and packing to quality control and shipping, ensuring your operations run smoothly.
Cost-Efficient Returns Management
Returns are an inevitable aspect of e-commerce. Managing returns efficiently is essential to maintain customer satisfaction and minimize losses. Canadian e-commerce warehouses are equipped to handle returns with ease, reducing the administrative burden and costs associated with the process.
Focus on Core Business Activities
Outsourcing your warehousing and fulfillment to a Canadian e-commerce warehouse allows you to concentrate on your core business activities. You can redirect your time, resources, and energy toward product development, marketing, and strategic planning, enabling your business to grow and innovate.
Explore Canadian 3PL and Ecommerce Warehousing with LinksCorp
Links Corp is a full service third-party logistics service that provides businesses across North America with leading and reliable warehouse solutions. Our Canadian e-commerce warehouses give businesses on the cusp of growth the power to operate better and serve customers better. To learn more about our e-commerce and retail services, contact our team directly.