Canadian Warehousing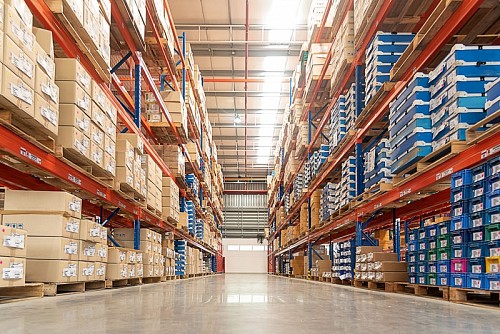 Links Warehousing & Fulfillment is a full service 3PL (Third Party Logistics provider) e-commerce and retail pick and pack warehouse. Our state-of-the-art Toronto facilities have been designed by experts with our customer's needs in mind. We create extreme efficiency by maximizing our space with state-of-the-art warehousing equipment resulting in The Canadian Distribution Advantage™
Links Warehousing & Fulfillment's e-commerce and retail pick & pack warehouses are in Toronto, Canada, with easy access to the main highways and a 15-minute drive to Pearson International Airport.
Our facilities are armed with modern security systems and monitored around the clock by video surveillance 24/7/365. Our ongoing investment in our personnel, equipment and systems has placed us in the forefront of our peers when it comes to service, pricing, and dependability.
Our warehouses are state of the art and are fitted out with the latest in storage equipment like the Hänel Lean-Lift® Vertical Storage Shuttle, as well as a conventional high rise small item e-commerce picking area, and narrow aisle high-rise pallet racking which is 28ft high. Our warehouses are all temperature and humidity controlled all year round and we also offer storage of oversized pallets.
Our Warehouse Management System is designed for e-commerce and is a key part of our value-added offering and is a cloud-based system giving our clients access from anywhere in the world, all you need is an internet connection to be able to control & track your inventory and orders.
Links is licensed by Health Canada for the importation, storage, and distribution of Natural Health Products in Canada.
Links Warehousing and Fulfillment offers the following warehousing and fulfillment services:
De-Stuffing Containers
Palletising and Shrink Wrapping Pallets
Pick and Pack/Order Fulfillment
Returns Processing
Shipping
Cross-Docking
Kitting, Re-work and Assembly
Labelling
Packaging and re-packaging
Re-Boxing
Barcoding
Testing
Refurbishing
Quality Control
What we can offer your company is The Canadian Distribution Advantage™