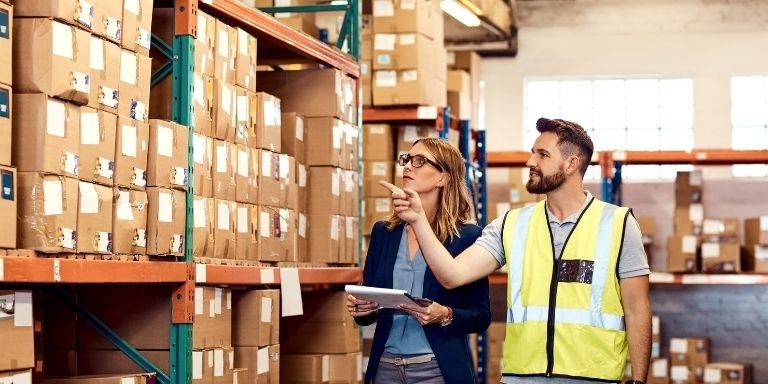 Posted on October 14, 2023
E-commerce has revolutionized the way people shop for products from household supplies to clothing, and much more. The ability to shop online has given consumers access to more products from around different regions geographically that wouldn't otherwise be possible. E-commerce has not only provided benefits to shoppers, but the rise of online shopping has also bred hundreds of thousands of new businesses that span a variety of industries. As these businesses continue to grow and maximize the benefits offered by e-commerce they require eligible and comprehensive supply-chain management. One effective approach for businesses operating in North America is Canadian third-party logistics. LinksCorp is a leading Canadian warehousing and logistics provider that has been trusted by many businesses in various industries. Canadian warehousing and 3PL for e-commerce businesses with LinksCorp extends logistical operations to ensure smooth operation and high-level customer satisfaction.
To learn more about e-commerce warehousing services and their services, read on.
Efficient E-Commerce Order Fulfillment
At our Canadian third-party logistics facility, we not only stock sufficient inventory levels of e-commerce products that you want to ship in Canada, but we provide detailed pick and pack order fulfillment services. When we receive orders, our team diligently streamline operations by picking items from storage centres and labelling them for shipment. We coordinate with couriers to ensure that logistics are handled accurately from end-to-end. Packaging is chosen based on the size and fragility of the products, as well as the shipping method selected by the customer. At LinksCorp, we also offer custom packaging, reboxing, and labeling services.
Efficient pick and pack order fulfillment is crucial for e-commerce businesses as it ensures that orders are fulfilled accurately and promptly, leading to customer satisfaction, reduced returns, and ultimately, the success of the business. It also plays a significant role in the overall supply chain and logistics operations of a company, as well-managed order fulfillment processes contribute to cost-effectiveness and competitive advantage.
Canadian Return Operations
An important aspect of retail are returns. E-commerce involves coordination between sellers, vendors, and customers. Third-party logistics companies streamline operations to make returns easier. At LinksCorp warehousing and fulfillment, we manage all of your e-commerce returns in Canada seamlessly. To make returns more cost-effective we consolidate returns to shop back to your facility in Canada or the United States. If you are discontinuing a product or want your Canadian warehousing provider to communicate directly with your vendors. If products are at the end of their lifecycle, the LinksCorp team can coordinate with recycling centres and disposal companies.
Product Recall Services
Businesses that have product offerings sometimes have to deal with recalls when there are unexpected problems with the items when they are already in distribution. It is critical that recalls be handled meticulously and strategically. As a trusted e-commerce warehousing company in Canada, LinksCorp has a holistic approach to recall management including total physical product recalls, receiving and storage, certified disposal, notices, report creation, and more.
Benefits of Canadian Warehousing & 3PL for E-Commerce
Canadian warehousing is a vital element of the e-commerce supply chain. It plays a pivotal role in ensuring that products are stored securely and efficiently, ready for shipping. Here are some benefits of opting for Canadian warehousing services:
Geographic Advantage: Canada's strategic location offers proximity to the vast North American market. This location advantage can reduce shipping times and costs for e-commerce businesses targeting customers in the United States and other parts of North America.
Climate-Controlled Storage: Canadian warehousing companies often provide climate-controlled storage facilities, crucial for businesses dealing with temperature-sensitive products, such as food, pharmaceuticals, or electronics.
Scalability: E-commerce businesses experience fluctuations in demand, especially during seasonal peaks. Canadian warehousing offers scalability to accommodate surges in inventory, ensuring products are readily available for customers.
Trusted Canadian 3PL at Links Corp
While Canadian warehousing is essential, it's only part of the equation. E-commerce businesses need a 3PL company that offers comprehensive services tailored to their specific needs. At Links Corp, we offer a full suite of e-commerce warehousing solutions for businesses operating in Canada or selling within Canada including efficient fulfillment services, inventory management, returns management, data analysis, and much more. To learn more about how we can help you streamline your logistics, grow your bottom line, extend your market reach, and scale your business, contact us today.