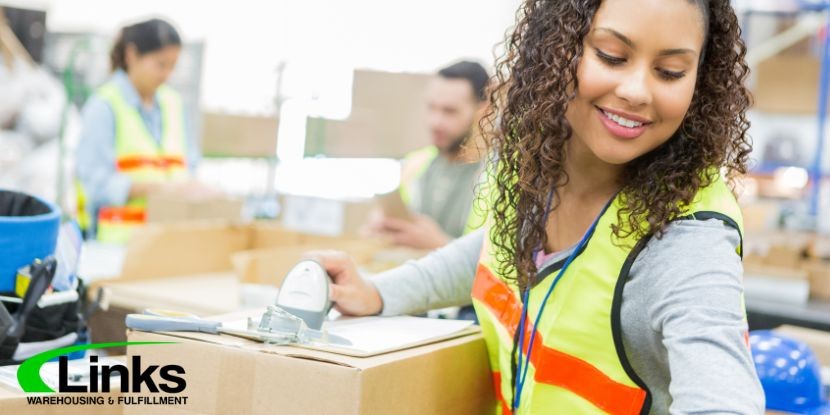 Posted on November 15, 2023
E-commerce warehousing plays a pivotal role in the success of modern businesses, particularly in the realm of Canadian 3PL, Canadian warehousing, and Canadian e-commerce warehouses. These specialized facilities serve as the backbone of online retail, offering a hub where products are stored, managed, and dispatched. The strategic placement of e-commerce warehouses extends the reach of businesses, enabling them to cater to a wider demographic across Canada.
One of the key advantages of leveraging same-day e-commerce order fulfillment through Canadian 3PL services is the ability to meet customer expectations promptly, especially during the holiday season when the demand for inventory and online orders skyrockets. Canadian e-commerce warehouses are strategically located to ensure quicker delivery times, offering an edge in the competitive e-commerce landscape. LinksCorp offers our customers reliable and fast same-day e-commerce solutions to ensure your customers have a positive experience with your brand, getting their hands on your product sooner.
Here's a closer look at the tangible benefits of same-day e-commerce order fulfillment:

Rapid Delivery and Customer Satisfaction
Canadian e-commerce warehouses are strategically placed to ensure swift access to various regions across the country. This proximity enables same-day order fulfillment, significantly reducing delivery times. Customers expect prompt deliveries, and meeting these expectations contributes to heightened satisfaction and increased loyalty.

Enhanced Market Penetration
By harnessing Canadian 3PL services and leveraging well-positioned warehouses, businesses can tap into diverse markets. Efficient same-day e-commerce order fulfillment allows companies to penetrate geographically dispersed areas of Canada. This not only broadens their customer base but also strengthens their market presence in different provinces and territories.

Cost-Effective Operations
Utilizing Canadian warehousing for same-day order fulfillment offers cost efficiencies. Strategic placement reduces shipping distances, cutting down on transportation costs. Moreover, optimized logistics within these warehouses streamline operations, reducing handling times and enhancing overall efficiency.

Competitive Edge in the Industry
In the dynamic e-commerce landscape, speed and efficiency are paramount. Businesses that invest in same-day e-commerce order fulfillment gain a competitive edge. Quicker delivery times and efficient handling of orders set them apart from competitors, attracting more customers and fostering a positive brand image.

Improved Inventory Management
Canadian e-commerce warehouses are equipped with advanced inventory management systems. This allows for real-time tracking of stock levels, ensuring better control and optimization of inventory. Efficient inventory management minimizes stockouts and overstock situations, optimizing resources and improving overall business performance.

Adaptability to Seasonal Demands
E-commerce businesses often experience fluctuations in demand, especially during peak seasons. Canadian 3PL services and warehouses specializing in e-commerce fulfillment are adept at handling these fluctuations. The flexibility to scale operations during high-demand periods as we near the holidays ensures timely order processing and delivery, meeting customer expectations even during peak seasons.

Strengthening Partnerships with Carriers
Close proximity to carriers and shipping partners is facilitated by the strategic placement of Canadian e-commerce warehouses. This fosters stronger relationships with carriers, leading to negotiated rates, priority handling, and improved shipping options, ultimately benefiting businesses and end customers alike.

Explore Canadian E-Commerce Warehousing with LinksCorp
Same-day e-commerce order fulfillment facilitated by Canadian 3PL services and specialized Canadian e-commerce warehouses is instrumental in driving business success. The strategic positioning of these facilities, coupled with efficient operations, not only meets customer demands but also expands market reach, enhances operational efficiency, and strengthens a company's competitive stance in the ever-evolving e-commerce landscape. Learn how Links Corp will provide reliable and prompt same-day e-commerce warehousing solutions.