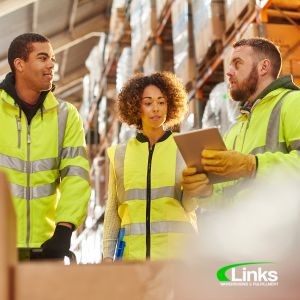 Posted on September 13, 2023
In the ever-evolving landscape of business, efficiency and flexibility are vital to growth and success. Companies constantly seeking ways to streamline operations, reduce costs, and expand their reach into new markets can benefit significantly from reliable Canadian 3PL warehousing (Third-Party Logistics) where businesses outsource their logistics, warehousing, and supply-chain processes to a trusted third party specializing in these functions, like LinksCorp.
By outsourcing Canadian warehousing and fulfillment, your business is creating a strategic partnership between a business and an external logistics provider, where the provider takes charge of various logistics and supply chain functions.The powerful solution has gained popularity in the business world for its numerous benefits. At LinksCorp, a leading Canadian warehousing and fulfillment provider, we offer a wide range of Canadian 3PL services to support the growth and success of businesses across North America.
Read on to learn more about the benefits of Canadian warehousing and fulfillment with LinksCorp.
Reduce Operation Costs
One of the most compelling advantages of 3PL warehousing is cost reduction. Managing your own warehousing facilities can be capital-intensive, with expenses for renting or building storage space, hiring and training staff, and investing in technology and equipment. In contrast, partnering with an expert 3PL provider like LinksCorp allows you to share these costs with other clients, benefiting from economies of scale.
Third-party Canadian warehousing and fulfillment providers have established networks and expertise in optimizing warehouse operations that minimize labor costs, reduce overstocking or understocking, and lower transportation expenses through efficient routing and consolidation of shipments.
Increase Turnaround Time
The modern business environment requires speed. Canadian 3PL warehousing can significantly improve your turnaround time. These providers specialize in logistics and supply chain management, allowing them to handle warehousing operations with precision and speed.
With advanced technology and real-time tracking systems, 3PL warehouses can process and ship orders quickly. This translates into faster deliveries for your customers, which can lead to increased customer satisfaction and repeat business.
Enable Businesses to Scale
Scalability is a critical consideration for businesses aiming for growth. Whether you're experiencing seasonal fluctuations in demand or planning to expand your product offerings, 3PL warehousing in Canada provides the flexibility to adapt to your changing needs.
Instead of being tied to a fixed warehouse capacity, you can adjust your storage space and distribution capabilities according to your requirements. This scalability ensures that you're not overcommitting resources during periods of low demand and can easily handle spikes in sales without logistical bottlenecks.
Reach New Markets
An essential part of growth and scaling is reaching new markets, especially geographically. Canadian 3PL warehousing with LinksCorp simplifies this process by giving businesses access to Canada's vast geography. Our team also understands the local market dynamics, regulations, and shipping considerations, making it easier for your business to penetrate new regions and tap into untapped markets.
Canadian Warehousing & Fulfillment with LinksCorp
Third-party logistics in Canada provides numerous advantages for a vast range of businesses, whether you're looking to expand into Canada or you're operating a flourishing e-commerce operation, LinksCorp can help you streamline logistics to grow your bottom line.
To learn more about our 3PL services contact us today.