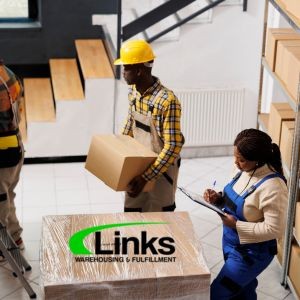 Posted on October 30, 2023
Third-party logistics companies in Ontario and throughout Canada provide a number of benefits to online businesses expanding their product offerings into the country. Of the many 3PL services provided by LinksCorp, a trusted Canadian warehousing company, our effective pick-and-pack services are designed to enable efficiencies while delivering high-quality services. To maximize convenience, our pick-and-pack warehouse is located just minutes away from Pearson International Airport, which streamlines distribution. If you are considering Canadian third-party logistics and pick-and-pack services, read on to learn more about what that entails.
What Are Pick & Pack Services?
Pick & pack are two vital steps of the order fulfillment process, which is vital to both physical stores and e-commerce sites leveraging Canadian warehousing services. Picking refers to the careful selection of a product based on an order at the warehouse. Packing refers to the packaging of the item and getting it ready for shipment to the desired destination. Regardless of the complexity of an individual order or the number of items required for shipment, the experienced and organized logistics team at LinksCorp can manage high volumes with accuracy and reliability.
Steps Involved in Pick & Pack at 3PL Facilities
Receiving Inventory: Before any picking and packing can happen, the 3PL must receive, count, and inspect the incoming inventory. This step ensures that all items are in good condition and accounted for.
Storage and Organization: Inventory is stored in a way that maximizes space and accessibility, which facilitates efficiency during the picking process.
Order Processing: When a customer places an order, the 3PL's system generates a picking list which details the specific products needed to fulfill the order.
Picking: Once equipped with the pick list, the warehouse team will carefully pick the items from their designated locations, prioritizing accuracy and speed.
Quality Control: After picking, a quality control check is often conducted to ensure that the correct items have been selected and that they are in good condition. This helps ensure that your customers are happy with their service, which supports your brand image.Packing: Once the items have been picked and verified, they are carefully packed into appropriate packaging, including boxes, envelopes, or other containers. Packaging is selected based on the nature and size of the items.
Labelling: Each package is labelled with the necessary shipping information, including the recipient's address, shipping method, and any barcodes or tracking numbers.
Shipping: The packed orders are then ready for shipment and are dispatched to the respective carriers, whether it's for ground, air, or ocean transport.
The Importance of Pick and Pack Services in 3PL
The effectiveness of pick-and-pack services cannot be overstated for successful logistics operations. Pick-and-pack services are the core of your third-party logistics operations. With a leading 3PL partner like LinksCorp in Canada, you can ensure that your order fulfillment processes are efficient and accurate. Working with a Canadian warehousing service provider, you can reduce order processing times, allowing you to scale and expand your business at a lower cost than if you were managing order fulfillment independently. To explore our Canadian 3PL options, contact the LinksCorp team.